I've challenged myself to read at least 100 books. I can't get the goodreads thing to work here, though. As of 07/10/12 I've read 50 and I'm nearly finished with a couple others.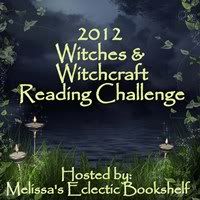 I've also joined the Witches & Witchcraft Reading challenge, hosted by
Melissa's Eclectic Bookshelf
. I've chosen the level Maiden, but I'm hoping to read more than 10.
The rules for Melissa's challenge are to read books that have a Witch as a main character, or major elements of Witchcraft. They can be fiction or non-fiction, and the challenge runs from January 1, 2012- December 31, 2012 with signups lasting through December 15, 2012. The levels are:
Initiate:
Read 1 - 5 Witchy Books
Maiden:
Read 6 - 10 Witchy Books
Mother:
Read 11 - 15 Witchy Books
Crone: Read 16 - 20
Witchy Books
Books Read for Witches and Witchcraft Challenge
The Forest House by Marion Zimmer-Bradley
Ghoslight by Marion Zimmer-Bradley
Utterly Wicked by Dorothy Morrison
The Witches' Book of the Dead by Christian Day
Shadow Magick Compendium by Raven Digitalis
Witch and Wizard by James Patterson
The Way of the Hedge Witch by Arin Murphy-Hiscock
Shadow of Night by Deborah Harkness
Cottage Witchery by Ellen Dugan
Fire Burn & Cauldron Bubble by H.P. Mallory
Natural Witchery by Ellen Dugan
Opal Fire by Barbra Annino
Bloodstone by Barbra Annino
To Kill a Warlock by H.P. Mallory
Pretty Witches All in a Row by Lisa Olsen
Every Witch Way But Wicked collection of short stories by various authors
Wilted by Dianna Hardy
The Witching Pen by Dianna Hardy
The Sands of Time by Dianna Hardy